Please share with your friends!
Five String Fiddle Back Plate Purfling
Layout
I use the same purfling marker to begin the layout of the back purfling as I did on the front purfling, except that, as I have a habit of using a "signature" fleur-de-lis on the upper and lower ends of my five-string fiddles, I have to stop short of the corners and ends, and sketch those areas in by hand. However, I had noticed that, since I have literally been sketching them in by hand, no two were alike, and they were pretty time consuming. So, today I made a small template out of tag-board…a junk-mail offer for some thing or another, that just happened to arrive at the time I needed such a thing. (Serendipitous, that….)
I used the purfling marker to lay out everything except the corners and ends, then used the template by poking through it with a needle, to lay out the ends, and sketched in the corners with a pencil and knife.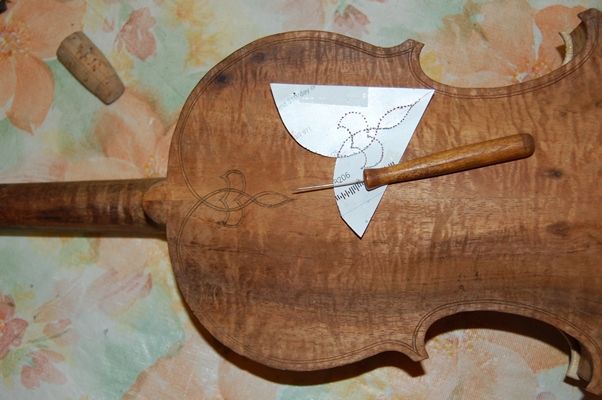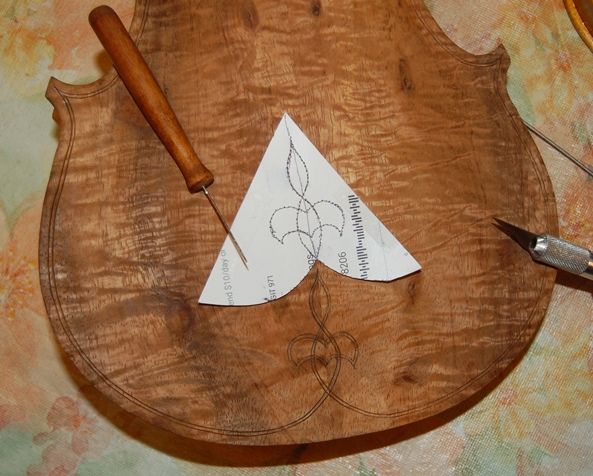 And, now I am ready to cut all my purfling grooves, pick them out, and begin installing purfling.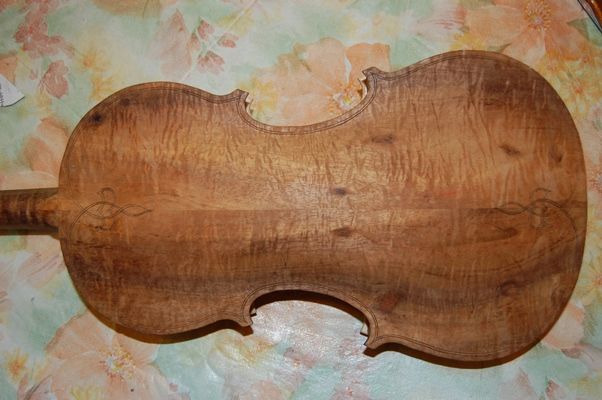 Cutting the groove and picking out the waste wood.
This part is hard on the hands. Some very good luthiers, today, now do this part using a dremel tool, but I tried it a couple of times and had some rather nasty accidents. I reverted to cutting the grooves by hand. It is hard on my hands, but I end up doing better work. I just have to take breaks now and then.
Something I had to bear in mind on this fiddle, is that the Koa grain is so curly and wild that I could have no confidence that the purfling pick would not chip out a larger piece than I intended. So, I had to move carefully, and take small "bites."
Also, inlaying the "purfling-weave" (the fleurs-de-lis) was risky, as the graduation was already complete, so I did not have lots of extra wood to work with. I had to make sure I did not cut too deeply. I worked carefully, and took my time, and got through the challenge without mishap. Aggravated my arthritis somewhat, but that is OK, too; I will just take a break for a day and do some other things.
The chimney needed to be cleaned, and commercial cleaners refuse to do it, as they say our roof is so steep and high, that it is too dangerous. (sigh…) So we bought a set of chimney brushes, and, every year, we do it ourselves. That took a few hours Saturday morning. We heat with wood, and it is important to clean that chimney every year.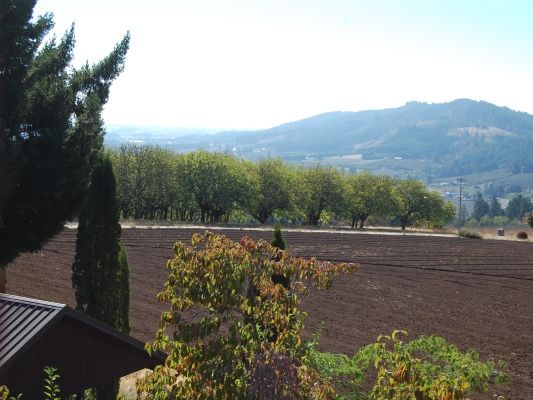 But in the afternoon and evening, I went back and got back to work on the fiddle. Section by section I sliced along those marks and cut the grooves as deep as I thought I needed them, then began picking out the wood from between the cuts.
Anyway: I think that is about as far as I am going to get, this weekend. I will try to finish the purfling by Wednesday, get the heel and neck and scroll at the absolutely finished level, then start doing all the final edgework, and prepping for varnish.
Thanks for looking.
If you found this post helpful, please share with your friends!