Please share with your friends!
Two New Five-string Fiddles in the Works
Spousal Encouragement
My wife has been after me for some time to increase my output of 5 string bluegrass fiddles. (She's probably right, but there are so many other things to do!) So…what to do? I made two new molds, a little broader in the middle bouts, which may improve the sound even more. I installed blocks in both molds and hope to build one five string fiddle of Oregon Myrtle-wood with a Port-Orford Cedar top, and another five-string fiddle of figured maple with a spruce top.
Improved Perspective
I had belly surgery last month (gall-bladder removal) and I am feeling much better. It makes me wonder whether that has been the main source of much of my "don't feel good" problems for years. I feel so much more positive about work, lutherie and life in general, it is pretty amazing. (And, no, I am not on any "feel-good" meds, in case you are wondering… although, I've got to say, after the few days of Oxy-Codone, I can see why people get addicted to the stuff. But I got off it just a few days after the surgery, with just a few times going back for a day or two, to get over a hump, so to speak, when pain became a problem again.)
Progress Thus Far:
So: I have bent the ribs for the figured Oregon Mytrle-wood/Port Orford Cedar fiddle, but still have to join the plates both front and back. I installed the center bout ribs last night, and hope to get the upper and lower bout ribs installed today.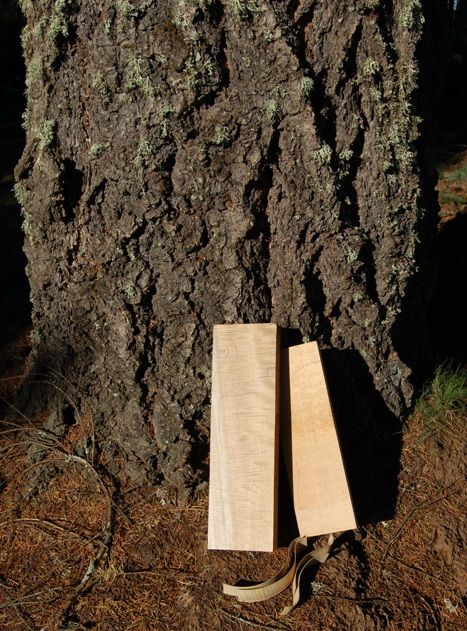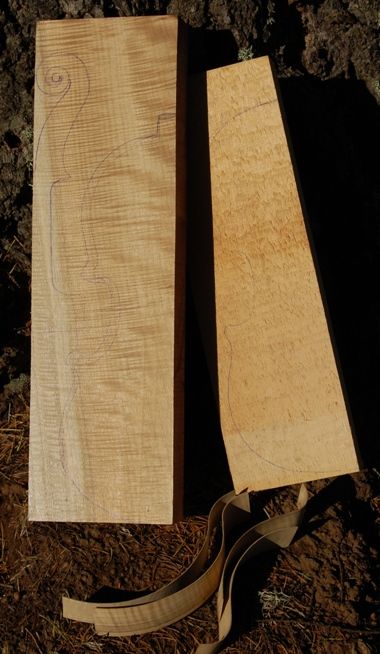 The plates for the Maple/Spruce fiddle are already joined, but the ribs are only cut– they still need to be thinned down to 1mm and cut to 35mm width. If I can get that done today, I will heat up the bending iron and try to get the ribs bent, and the c-bout ribs installed. After that I can work on getting the willow linings cut, bent and installed.
Both fiddles need the neck-blocks cut to shape, to prepare for carving. Neither have any plate-carving done, nor purfling,  f-holes, etc., of course.
Follow along as I complete the builds. If you decide you'd like a private look at one of them give me a call or an e-mail.
Goals:
The intent is to have two new five string fiddles ready in time for the Marylhurst University Musical Instrument Show in the Spring ( April 25th and 26th, 2015) My problem is that I also realllllly want to have a new hand-carved upright bass ready in time to attend the International Society of Bassists (ISB) competition in Fort Collins, Colorado, in the last week of May/first weekend of June. (Too many goals…need more energy and time!)
One drawback to the competition goal is that (I think) I will not be able to post progress reports, (photos, anyway) until after the competition. Ah, well… I'll post other stuff, I guess.
Thanks for reading.
If you found this post helpful, please share with your friends!