Please share with your friends!
Here are some photos from the 2013 Marylhurst University Musical Instrument Makers' Show: (Most were taken before the show was open to the public– these people are all the makers and vendors.)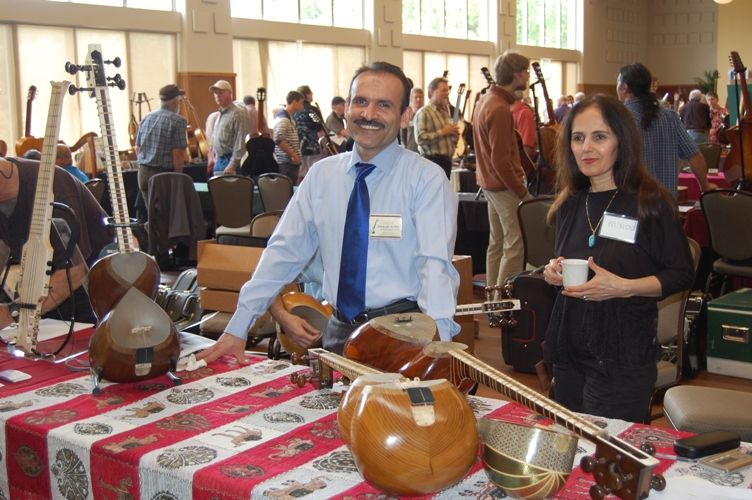 It wasn't all guitars and fiddles, as you can see. This couple makes Persian instruments called "Tars" (the larger ones) and  Setars, (not "Sitars", which have 30 strings…traditionally, a Setar has three strings, but apparently about a century ago, a tradition of four-string setars began.) That little thing to the right of center is a setar.
There were also two banjo makers, several ukulele makers, mandolin makers, an orchestral harp maker, and, yes, even a few fiddle makers. And every kind of guitar imaginable.
The table in the next photo was mine…I was sharing it with my son, who makes guitars. That worked out well. We had someone at our table nearly constantly.
In the picture above, Brian, my youngest son, had not yet arrived. In the one below, his girlfriend was helping set up his display.
There were approximately 500 visitors each day…it was a pretty encouraging weekend.
The five string fiddle (left-most in the rack) sold, so that was nice, but unfortunately there were not very many cellists in the mix…only two stopped and played the cellos, but they really liked both of them. The five-string was the real star. 🙂
If you found this post helpful, please share with your friends!