Posts Tagged 'stringed instrument maker'
Please share with your friends!
Marylhurst University Musical Instrument Show
For those who missed it:
The following photos were all taken before the public was allowed in, so the tables are not fully set up, but you can see the size of the room, and some of the instrument displays. I believe there were 80 tables, and each table had one or more makers exhibiting, so probably in the neighborhood of 100 makers. Possibly ten were violin-family makers. One was a maker of wooden flutes and drums. Usually there is an orchestral harp maker there, but he was not there this year. There were several mandolin and ukulele makers, some makers of middle-eastern or South American instruments, one or two banjo makers, and all the rest were either guitar-makers or vendors selling materials to makers.
Once the doors were open, I am told we had about 300 visitors the first day, and 500 the second day. I don't know how accurate those numbers are, but it definitely seemed more crowded the second day.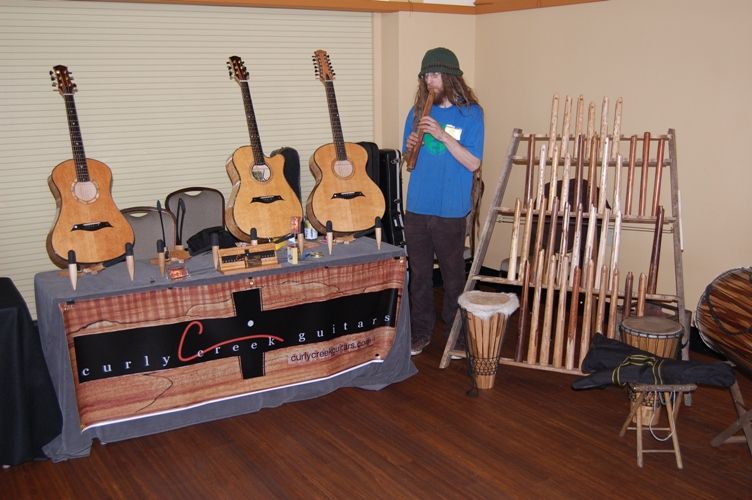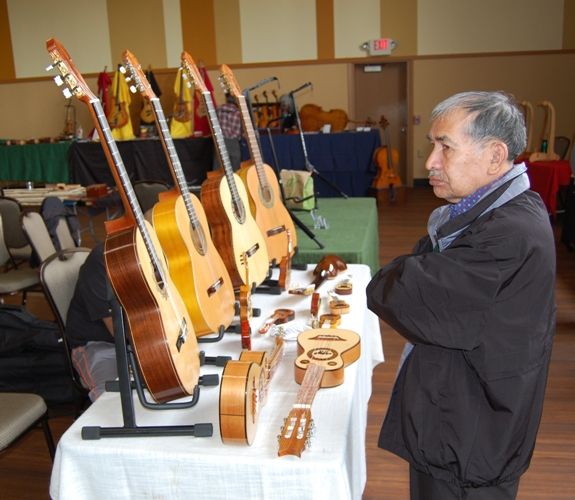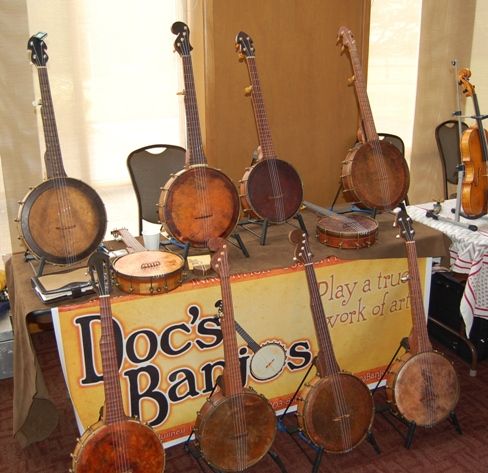 No sales at our table this year, but lots of interest, and several good players. A good weekend all the way around. The one-piece-back cello, of Oregon Big-leaf Maple was very popular, as was the five-string fiddle and the Lion-head Viola.  I did not have a double bass there this year, but several people asked, so I intend to do so next year.
We had a very pleasant visit from violin-maker Kenneth Pollard and his lovely wife (who took the photo below), both of Nampa, Idaho. He and I have corrresponded in the past, but this was a first "face-to-face" meeting. Hope to see them again sometime…maybe at the next show, if not before.
If you found this post helpful, please share with your friends!
---
Please share with your friends!
What is a "Luthier" (definition)? What is "Lutherie"?
 So…What IS a Luthier?
The old French word simply meant "a lute-maker". And his business was called lutherie.
"Loot-yeh" is pretty close to the French pronunciation. We Americans have a cheerful disregard for the pronunciation rules of the languages from which we borrow our vocabulary, so we typically pronounce it "Loothy-er". The work of a luthier, lutherie, is usually pronounced "looth-er-y"
What does it mean Today?
The meaning has shifted, over the years, to cover the builders of all  stringed instruments. Lute-makers are still luthiers, but so are guitar-makers, ukulele-makers, mandolin makers, and, of course, violin-makers. Violas, basses, cellos, five-string fiddles and dulcimers are also made by luthiers.  Banjos, pianos, violas da gamba and harps, among others, are also built by luthiers. And the process of building and/or repairing stringed instruments is also called "lutherie".
Usually when one is looking for a luthier, they are not looking for someone who made one guitar for a summer project, or something of that sort– they are looking for someone who is at least a competent worker, and who can reliably repair an instrument, without further damage. That takes some training and experience.
Some people have the privilege of attending a full-time, extended training program, or serving a term as an apprentice, under a master maker. This last is still likely the best training, although some fine schools are now available.  Some cannot take the time from their established responsibilities to go away to school for an extended period, and learn from books, and/or piecemeal from a variety of teachers.
Workshops are now available in many parts of the United States, wherein one can begin to learn the skills to make guitars, violins, bows, etc. (Incidentally, one who makes violin-family bows is called an "archetier"… another French word.)
Some Violin Lutherie schools:
Some Guitar Lutherie schools:
Galloup school: My son graduated from this school– I can recommend it.
Roberto-Venn school: I have heard good things about this school too.
If you found this post helpful, please share with your friends!
---