Please share with your friends!
New Project!
"Pellegrina-esque?" Violoncello da spalla?
I had been pondering (glumly) what to build for the next show at Marylhurst University, and had nearly decided upon one of two "niche-market" items…either a very large "violoncello da spalla", or an emulation of David Rivinus's "Pellegrina." I had spoken to Mr. Rivinus a couple of years ago, and he told me that, for years, he had encouraged other luthiers to use his design, as a partial solution for some of the "work-related injuries" associated with playing large violas…but no one took him up on it, so he just produced them himself for the rest of his lutherie career, ultimately making 100, or so, of the odd-looking instruments. They were all sold, ultimately, and he has stopped taking orders, so I considered "taking up the mantle", so to speak, and producing instruments modelled after his work. But, as I said, that really is rather a "niche-market" viola.
The violoncello da spalla is possibly even more specialized, as, though it is strung very much like a regular violoncello (cello), it has a fifth string (E), above the standard C-G-D-A of the cello, is only 19-20″ long on the body, and is generally played off the right shoulder, so that the lower bass-side bout is under the chin, and the bowing arm comes up from underneath, so that the player is nearly as comfortable as when playing a small viola, but the sound is that of a cello or extremely large viola–take your pick. Very little classical music has been written for these instruments, so I doubt there would ever be a lot of market for them, though I would love to build them.
But! in the midst of these ponderings, I had sent one of my teachers a couple of sets of photos of two of my recent violins, and, while he was quite encouraging and positive, he took the time to give me a carefully-considered, and quite detailed critique (what a treasure!) of both instruments, telling me what changes he would want to see, when comparing my work to one of the Old Masters (Guarneri del Gesu, in particular.) So! I changed course, and figured that I have just enough time to attempt another copy of the 1735 "Plowden" Guarneri del Gesu violin, of which I already have the "The Strad" poster, with actual CT-scans of the original instrument, and exquisite photos of the outside, along with technical drawings and tables of measurements.  Game on! New Project!
Guarneri del Gesu
(Bartolomeo Giuseppe Guarneri 1698 – 1744) was a violin maker  living and working in Cremona, Italy. He was one of the sons of Giuseppe Giovanni, and, though he was not very successful in his lifetime as a luthier (having to supplement his income by other means) compared to the more famous Antonio Stradivari, some of his later instruments are highly prized today, and sell for more than perhaps the very best Stradivari violins. Currently the very highest price (undisclosed, but reportedly in excess of $15M) was paid for the 1741 "Vieuxtemps" Guarneri del Gesu, on lifetime loan to Anne Akiko Meyers. I have never attempted an instrument modelled after the "Vieuxtemps", but I have made two or three modelled after the 1735 "Plowden." So that is the chosen model, again.
Starting from Scratch, Again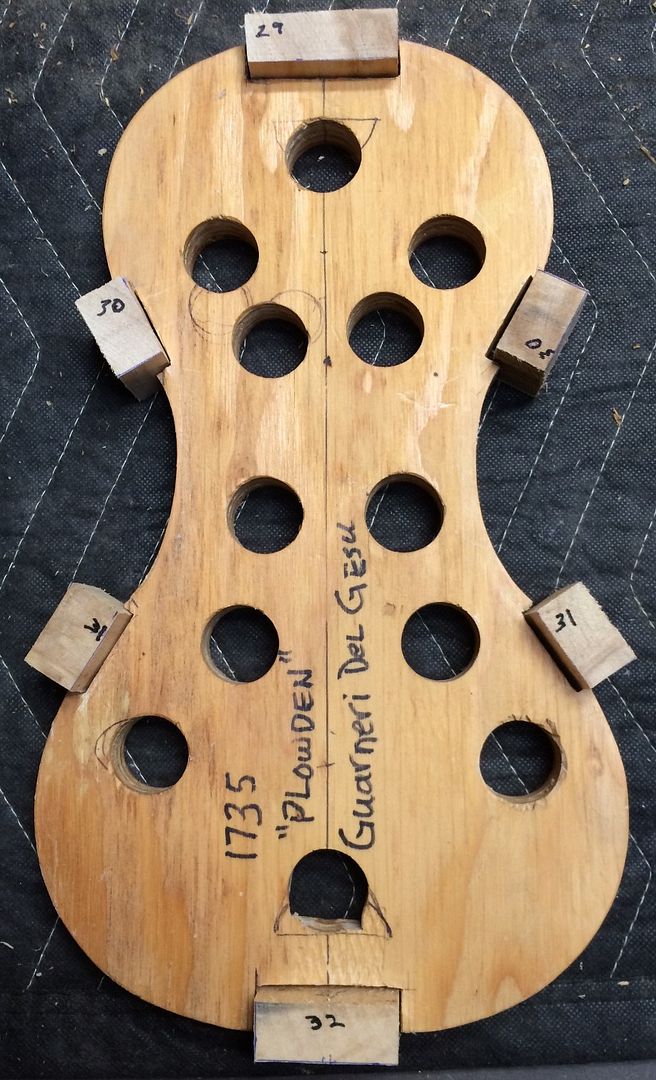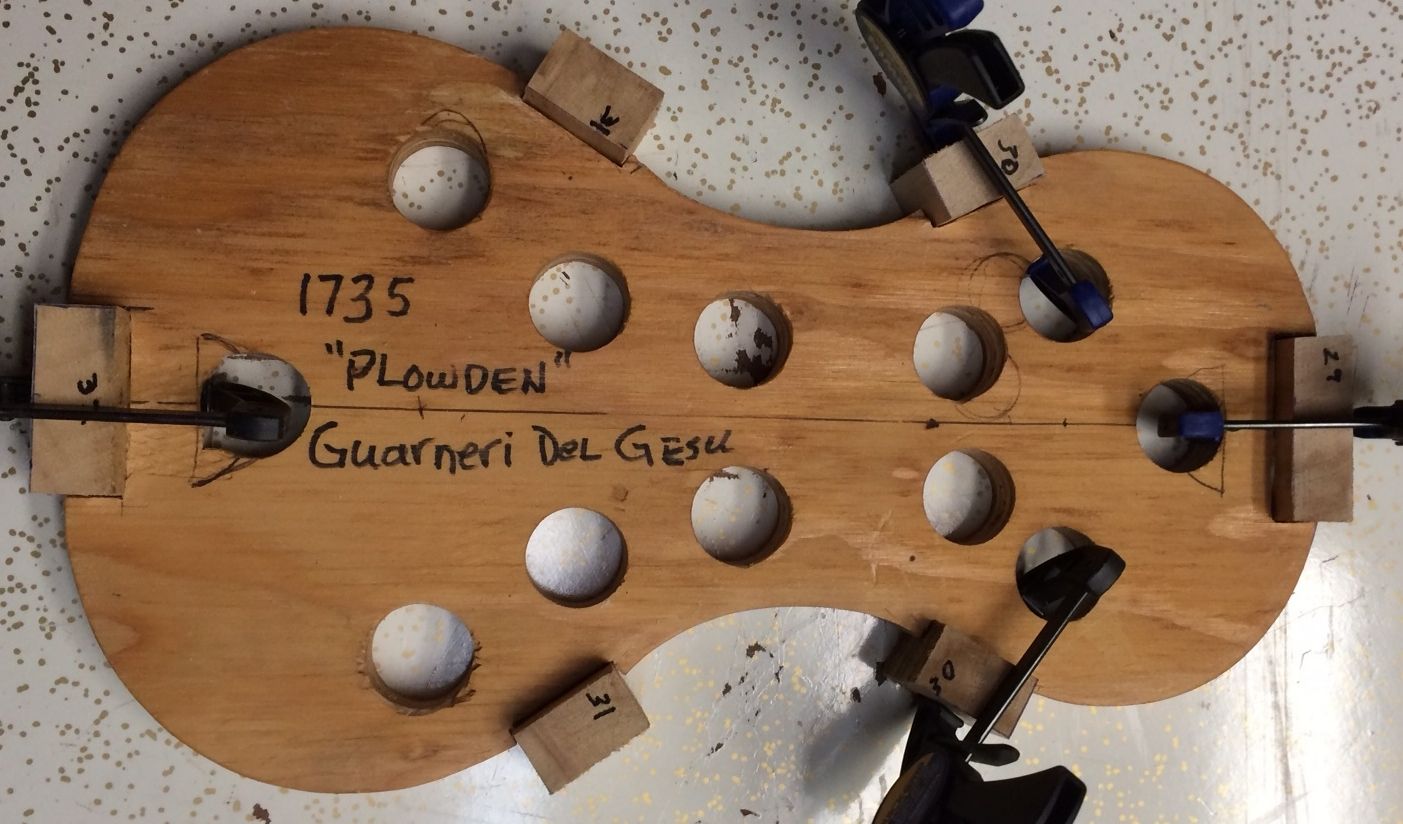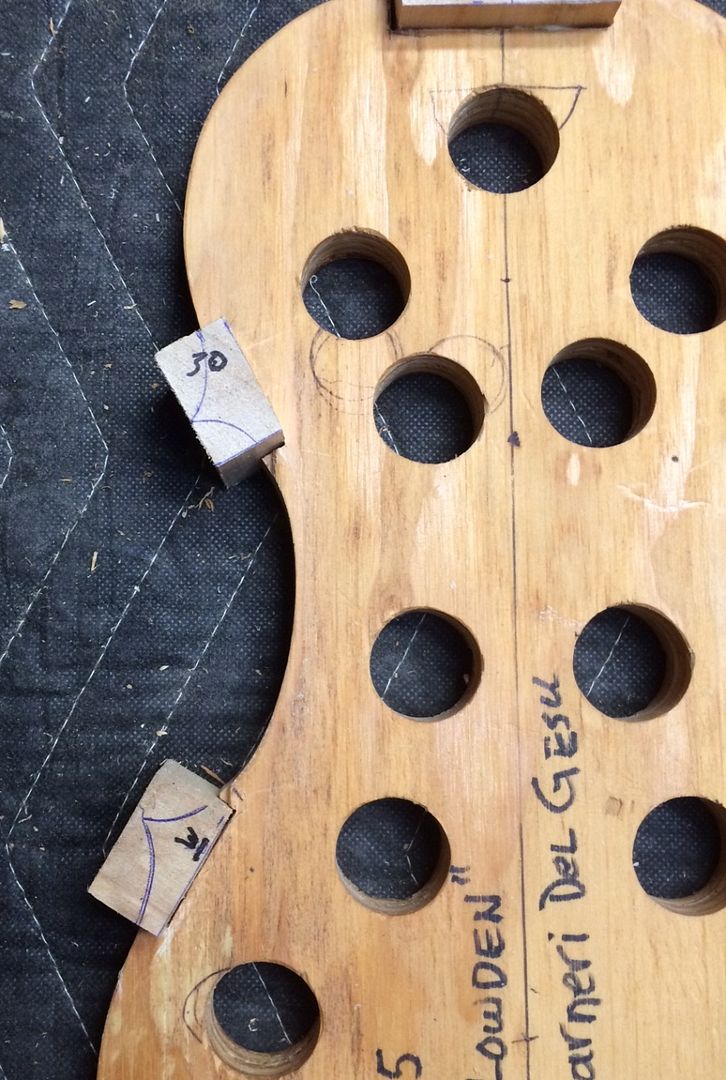 The Wood for the New Violin
This will be a one-piece back of European Maple, neck and ribs matching the back, and a two-piece front plate of European Spruce. All were obtained from International Violin Co., of Baltimore, MD.
That trace on the back plate was put there by the wood-source people…it does not reflect the shape of this violin at all.
So! That is the Beginning!
I will carve the inner curves of the center-bout blocks next, so that I can bend and fit the center ribs to match those curves. Afterward, I will carve the outer curves of those same blocks as well as the tail and neck blocks, before bending and fitting the upper and lower ribs.
As a precaution against accidentally gluing the ribs to the mold, I already rubbed a paraffin candle all over the edges of the mold, where the ribs will touch, so that if an accidental drop of hide-glue ends up there, it will not stick. (Been there…broke the rib, before I figured out what was amiss.)
This is as far as I am going today…I am still recovering from hernia surgery last week, and I find I still tire easily. But I'm on my way, and will try to keep you posted, with progress reports, here
Thanks for looking.
Chet Bishop
If you found this post helpful, please share with your friends!