Please share with your friends!
New Five-string Fiddle
Myrtle Wood and Port Orford Cedar
Some time ago, a friend (Cliff Stansell, of the Pistol River Trio) asked me to build (strictly on speculation) an Oliver five-string fiddle of Oregon Myrtle wood (for back, sides and neck) and Port Orford Cedar (for top and bassbar). He prevailed upon his brother (Les Stansell, a maker of Guitars and Ukuleles, using those woods) to donate the wood for the experiment. This is the result: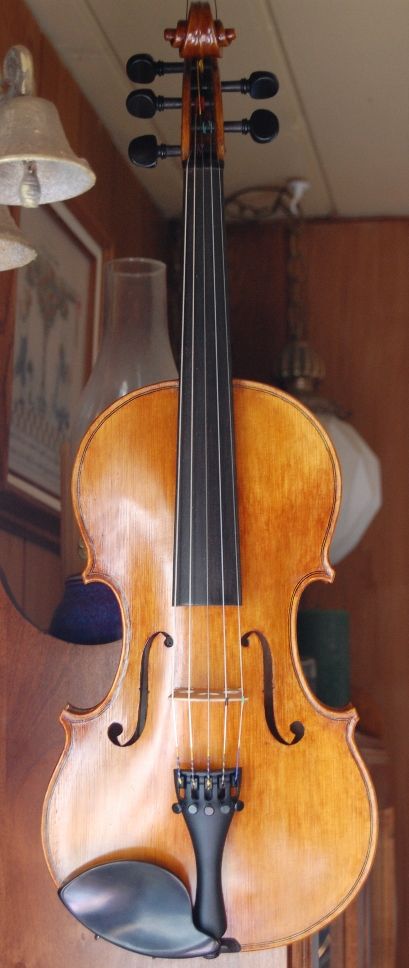 What about Sound?
Well, quite honestly, it has been strung up for less than 12 hours, and, though I have spent some time playing it, and adjusting the soundpost, etc., it is really still too early to be sure how it will sound.
So far, I feel pretty positive about it. I know the arching and graduations are good, but I have never used this combination of woods before, so it is hard to be sure what is a product of the wood, and what is a product of the luthier.
It feels heavier to me, quite naturally, simply because Myrtle is a harder, heavier wood than Maple. But that may be OK. I know that Bubinga (even harder and heavier) is regularly used for five-string fiddles, and I actually have some Bubinga to try someday soon.  The Koa I used for the 5 string fiddle last year was also very hard and heavy, and it turned out to sound very good. So I am hopeful that this one will too. It already sounds good…but I want it to sound Great!
(Update: by the next morning the sound had improved remarkably, as new instrument frequently do: I had adjusted the soundpost just before calling it quits for the night, and such adjustments frequently take a few hours to "settle in".)
Marylhurst Show is coming up in two weeks.
For anyone interested, the Annual Marylhurst Musical Instrument Makers' Show  (click the link for details) will be April 30th and May 1st this year. I hope to see you there. Come and test-drive this fiddle and the others.
Thanks for looking.
If you found this post helpful, please share with your friends!