Please share with your friends!
Currently, I am offering the following books about building Violin-Family instruments. I still build Violins, Violas, Cellos, and Double Basses, and their Five String Variants. All these instruments have been making customers happy wherever they go.
But, I know I will be able to build only a limited number of instruments before my body (hands especially) will no longer cooperate. So, I will attempt to make some of the things I have learned and experienced available for others to use and enjoy. (Each of the headings below are links to the Amazon sites where the books are available.)
I compiled my first full-length book on lutherie from a series of blog posts on my website. This book chroniclesall of the construction of a commissioned five-string fiddle. I offered the compliation for years as a free .pdf download, with its companion, "The Journeys of the Swan." They did not work well on smart-phones, or other small screens, however, as the text was too small to comfortably read. So, I revised and re-formatted the books as electronic books, and have released them as Kindle books, on Amazon.
This first book is only 21,000 words, (which seems short, to me,) but it is profusely illustrated with color photos of the build. In the original 8.5″ x 11″ format, it was 137 pages. It is much longer in Kindle format.
I hope to offer an online series of lutherie lessons later, in keeping with this style.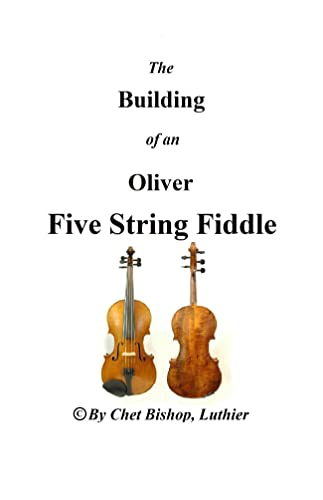 Kai Jensen, a NASA engineer who loved violins, began to build a cello, about 30 years ago. Unfortunately, Kai's health failed before he could complete his beloved project. Kai's daughter brought the instrument to me, years later, long after his passing. She asked me to complete it for him, so that she would have her father's cello to play.
This book tells, step-by-step, how we fulfilled Kai Jensen's dream and it blossomed into a beautiful cello. Kai's daughter inherited her father's joy. She named the completed instrument "The Swan," because the first music it played was Saint-Saen's "The Swan."
These are the Journeys of the Swan.
Booklets
I hope to will produce a list of articles or short books on resurrecting old fiddles. I only have two, for now, but more will come. These will appear on Kindle for their minimum price
The Bread Bag Fiddle is a short work (3,800 words, 30 photos.) It shows the transformation of a "junk-store special"…a sadly neglected and abused violin, into the daily player of a gigging fiddler. It originally arrived in a plastic bread-bag, with the top tied to prevent losing pieces. (Hence the title, "The Bread Bag Fiddle.")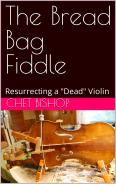 "Resurrection of Another Dead Fiddle" shows details of internal structural repairs, as well as replacement of missing rib wood and a full neck-set. The customer had set this one aside as unplayable and sadly bought a cheap violin on which to practice, but after the repairs shown here, this violin returned to being her daily player. She has become a Happy Customer! This, too, is very short.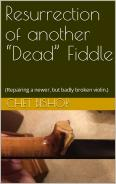 If you found this post helpful, please share with your friends!