Please share with your friends!
One-piece Cello Back progress; Cello top beginning
Low-angle Light Reveals Lumps
Remember I said that the cello back was ready for scrapers and low-angle light? Well, here is what low-angle light reveals:
Pretty rough-looking, huh? But that low-angle light is what reveals the lumps so that they can be planed or scraped away. Some of those lumps are big enough that I intend to use a small plane to reduce them before scraping again.
Saturday, I joined the top plate halves. The notches in the ends and center were to accommodate clamps. I had worked the mating edges as smooth and flat as I could get them (it seemed perfect, but looks can be deceiving), and then heated the two surfaces with my heat gun until they were uncomfortably warm, slathered on the hot hide glue, and presented one half to the other, rubbing them under pressure, to get the glue to run out the edges. Then I clamped each end firmly, and finally applied two bar clamps in the center notches.
I was fearful that the joint might not have been good, but today I took the clamps off and had a look. All is well! Here are the two plates (front and back) together. Notice how much nicer the back plate looks in normal light? That is why you never trust the looks of the arching until you have checked under low-angle light.
I was curious how close the front and back of the garland might be, in terms of shape (they almost never are exactly the same), so I traced around the back plate in blue ink, and then checked it against the actual garland. (Oops. No, that will not be good enough… see the blue line in the photo below?)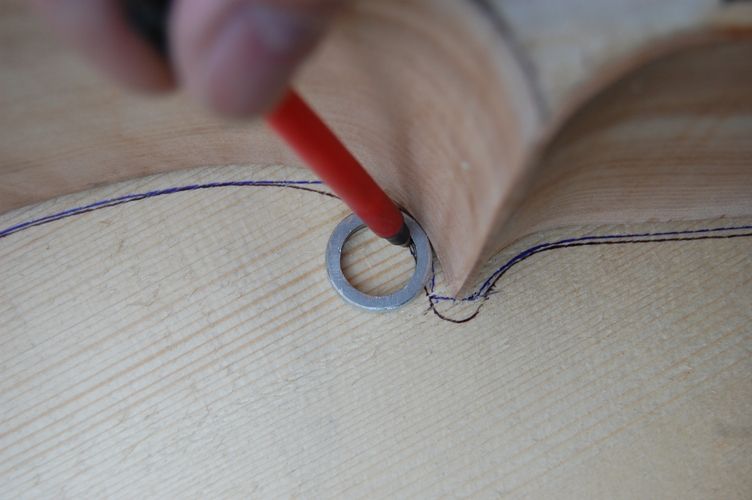 So I re-traced in black ink, directly off the front side of the garland, using the section of aluminum pipe to maintain the overhang distance. See the difference?
So, I cut the plate out on the black line, leaving the corners just a little long, so I could work on them more carefully, later. Here is the result.
If you found this post helpful, please share with your friends!