Please share with your friends!
3/4-size Violin
3/4-size Violin Coming Along Slowly
Holidays are a hard time to be Productive. (No excuse; just a fact.)
I took off from work from the 21st of December through the 8th of January, partly because my daughter was going to be in town for that period of time, and partly because I hoped to get some work done at home. However, a couple of days ago  (12/29 and 30, 2016) were the first days I had occasion to work (almost) uninterrupted. It was quite a luxury. I had one more such day today (1/2/17), but I have not seemed to have much of my former stamina lately, so I did not accomplish as much as I had hoped. However, I did manage to:
Complete the Red Maple scroll,
Complete (and temporarily install) the Ebony fingerboard,
Complete the neck/fingerboard combination,
Dress the fingerboard (still a little more to do),
Complete the preliminary arching of the European Spruce front plate (still a little more to do, after purfling),
Trim the front linings and shape them, using a knife and scraper,
Layout and incise the f-holes (which facilitated the final correction of the arching), and
Begin the graduation of the front plate (inner arching).
Wood Choices
The back, neck, scroll and ribs are Michigan Red Maple, which I bought from Elon Howe, years ago: really nice stuff. The belly is European spruce, and feels quite crisp under the blade, as well as possessing a very clear bell-like ring, when tapped. It is certainly interesting to observe the differences in how one type of maple or spruce behaves as compared to another.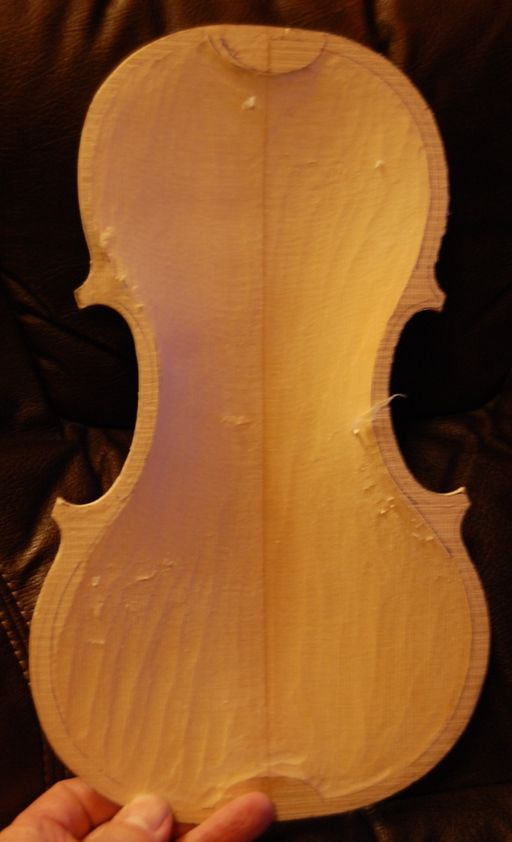 Remaining Operations
Next, I hope to complete the graduations, cut out the f-holes, and install the bassbar. Then I will really be "on the home stretch"…or I will feel that way at least. I can install the front plate either before or after purfling it, then set the neck and remove the mold.
After that, I will install the back linings, shape them and the blocks, and complete the back plate.
Potential for Trouble
I accidentally left my gluepot turned on a couple of nights ago. Fortunately, all I lost was the glue. No damage to the pot or the glue jar, and no collateral damage. I'm still sort of kicking myself, though…it is a potentially dangerous mistake. My glue warmer only gets to about 145 or 150 degrees Fahrenheit, so there isn't musch danger of a fire, but still….
I guess if that is my worst mishap for this violin, I will be doing well. No major setbacks, and no injuries, so far. (It doesn't happen often, but when one works with razor-sharp hand-tools often enough, it is easy to have a "senior moment", and nick oneself. Gotta be careful.) I have heard horror stories of serious injuries from other luthiers. So far, I have only needed stitches once, from a "slip" when carving the scroll to my #20 instrument, if I remember correctly. 🙂
Other Projects
During one of the several "hiatus occasions", during the last two weeks, my wife and I built and installed a storm window in the utility room (we are expecting very cold weather, soon), and we hung curtains, too, among other things. Lots of visiting with family members and friends, of course. I did make a bentwood box for my daughter, too, but I already told about that project, of course. 🙂
As I said, holidays are not an easy time to get a lot of work done. But we keep trying. 🙂
Thanks for looking.
If you found this post helpful, please share with your friends!