Please share with your friends!
Cello Scroll Carving Made Simple 🙂
There is nothing special about the way I carve scrolls. As far as I know, this is how everyone else does it, too, more or less. I am only sharing how I do it.
Start by tracing and sawing out the profile of the whole neck.
I don't have a photo of the scroll as a simple profile, but I begin with the billet (About 6″ x 3″ x 20″), and trace my template onto it, then use a bandsaw to cut the shape of the profile. I use a oscillating spindle sander to remove the saw marks, and perfect the profile right to the line. While the profiled block is still "square"–that is, while the sides are still parallel, I lay out the peg hole locations and use a drill press to make 1/8″ diameter pilot holes where each peg will be. I drill all the way through, so that the holes are clearly marked, and are perpendicular to the center plane of the neck.
Next cut out the pegbox and at least a few inches of the neck
I hollow out the pegbox before carving the scroll proper. Some people use a drill to get started. I have done it this way, but it seems a little risky, unless you put some sort of limiter on the drill, to avoid going too deep– and even then it is easy to go out of bounds. I use a narrow chisel to remove most of the rough wood, then a wider chisel to smooth the inside cheeks of the pegbox. I also saw off the excess wood on the outside of the pegbox, and plane those faces flat.
Then draw the shape of the scroll itself.
Usually we use a template for this, as well. Some people plot out each scroll with a straight-edge and compass. I have neither the time nor the inclination. In this case, my templates came from a poster of the 1712  "Davidov" Stradivarius cello, now being played by Yo Yo Ma. Some information was lacking, and I filled that in from Henry Strobel's book on cello making.
And begin cutting:
Once the scroll is drawn out, I clamp the neck to my workbench and, using a Japanese-style pull-saw, I begin cutting slots nearly to the layout lines of the volute. I rotate my position a few degrees, and make another cut. I have to be careful to avoid cutting too deeply, but this method allows me to chip away the waste wood rapidly, and the scroll begins looking like a scroll rather quickly.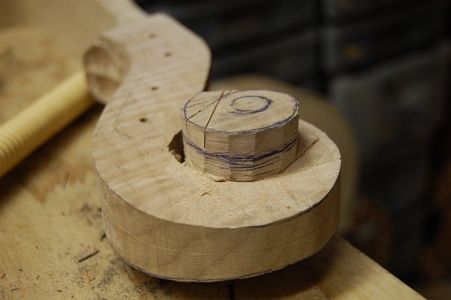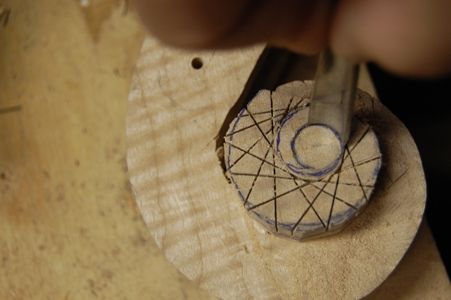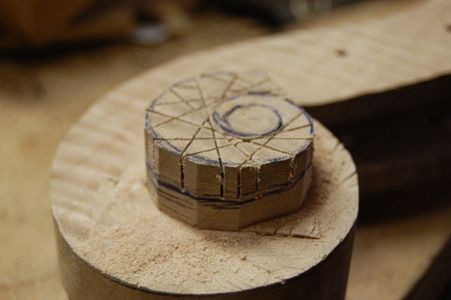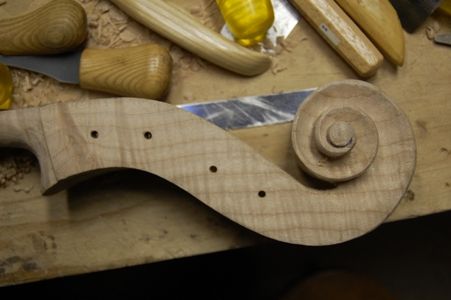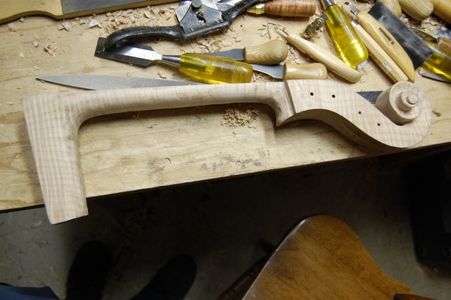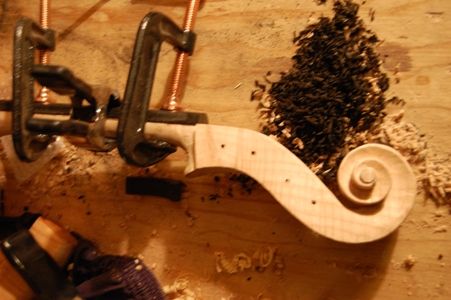 So– that was entirely enough for today. Tomorrow I will continue to refine the scroll and neck, and try to get the neck set. If I succeed, then I can remove the mold and install the back plate.
If you found this post helpful, please share with your friends!