Please share with your friends!
Part Two: Beginning Varnish.
Sealer
When we last posted, I had just applied the sealer coat, and it was pretty fresh, still.
The sealer does lighten a little bit as the turpentine evaporates…and, of course, the smell changes a lot. I happen to like the smell of turpentine, but it is pretty overpowering when the sealer is still fresh. Once the sealer was dry, I took a few more photos, then did some varnishing. I think you can see the difference, here:
Dry Sealer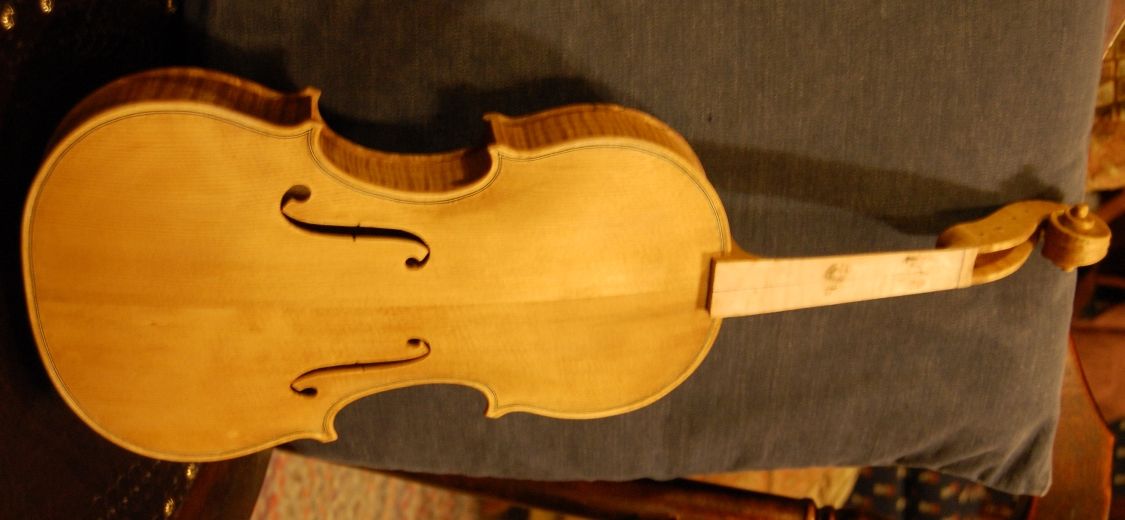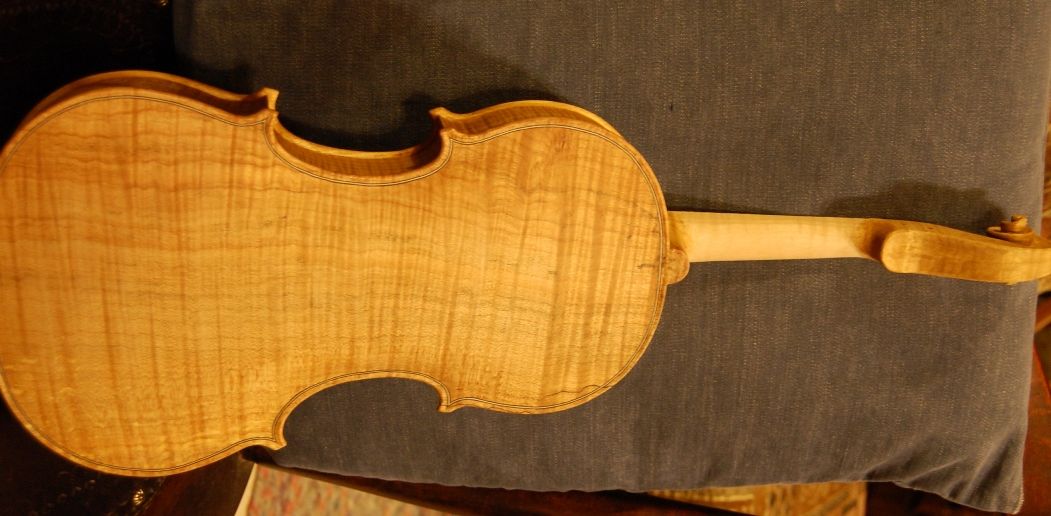 Beginning Varnish
But then I began the varnish. I usually try to lay down a golden base-color, and then add whatever other color I am working toward. I have ranged all over the board, trying different colors, but usually I end up in the browns or red-browns. I tried a really red violin with a student who demanded it, and he was thrilled with it…I was not. 🙂
So here is the viola after two coats of yellow-gold varnish.
I let it dry for a few days (partly because I had a great deal of other responsibilities that week), and then sanded it gently with worn 400-grit abrasive, rubbed it clean with a dry rag, and added another two coats of varnish:
Subsequent Base Coats
The appearance changed a lot more dramatically with those coats, didn't it? The colors are getting richer, and the finish is much more glossy. I used the flash on these last two photos, so, to stay consistent, I will try to use it (and the same background) on all the remaining photos of the varnish.
Color Varnish and (Maybe) Antiquing
The next step will be to decide just how far down the "antiquing trail" I want to go, this time. I will unquestionably do at least a little…but I really like the look it is developing right now, so I want to be careful to not lose it. (The neck stain and seal is the very last thing to go on, just in case anyone is wondering. I will explain that later.)
At the very least, I will begin adding some red-brown varnish, to darken things up a little. I will most likely do at least a gentle shading toward "antiqued," but I am leaning toward minimalism this time. Nothing drastic.
We'll see. 🙂
Thanks for looking.
If you found this post helpful, please share with your friends!